For example, we can prepare samples by a variety of techniques for TEM, such as high-pressure freezing and freeze-substitution, resin embedding and sectioning, immuno-gold labelling or negative staining. For SEM, we offer critical point drying, cryo preparation and sputter coating.
Which type do I need?


Immunolabelling using nanogold particles can also be used in TEM for whole cells, particles or resin tissue sections: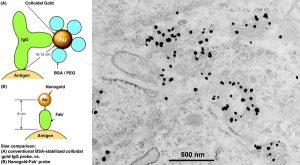 What you need to know before requesting EM services at QIB
It is preferable to have done some background research yourself to establish the sort of imaging and data that you require. However, please speak with us if you still aren't sure which would be the best method for you.
EM takes time. It may take several weeks to process and image your samples. The JIC EM microscopes can be very busy or down for repairs/servicing purposes, so this is another reason why it is good to see us as soon as you think you might want EM imaging.
For immunolabelling it is better if you have selected an antibody that has already been shown to be suitable for immunohistology (ie has been shown to work by immunofluorescence or immunoperoxidase).
For TEM negative staining of proteins/cells/phage etc it is important that your sample is fresh and clean from other contaminants. If samples are old, they may deteriorate; and high salts or other protein contamination in the sample will lead to poor quality imaging with high background.
When you have decided which form of EM you are interested in, we can meet with you and plan your experiment. Also if you have an image that you have seen, or a publication etc., please forward this on or bring to the meeting. There may be useful method information in it that can help with preparing your samples for imaging.
Other things to think about that we'll want to know from you before we image are:
Do you need a particular magnification size?
If it is quantative data you are collecting, what are you measuring and how many images do we need to take?
For qualititive data, is it fine structure, detail or overall morphology you are interested in?
Contact
We provide a complete electron microscopy service to QIB research scientists, that includes sample preparation, image acquisition (using shared microscope facilities on the NRP) and data interpretation. We are able to access TEM (transmission electron microscopy), SEM (scanning electron microscopy) and are well-resourced with specialist sample preparation equipment.