About the technique
Infrared spectroscopy is a workhorse in chemical analysis, because IR spectra are characteristic for chemical compounds, and their intensities are proportional to the concentration. These features allow us to answer questions such as: What is it made of? Is it pure?
Beyond that, the IR spectra can give information about the structure and function of biopolymers. Information on the spatial variation of the composition within a small sample can be obtained with the combination of a spectrometer and a microscope in a confocal setup. The result is a hyperspectral data cube where each X,Y element is associated with a spectrum, from which information about the chemical composition can be extracted. An image is then obtained by assigning each pixel a colour determined by the result of the spectral analysis. Because IR spectra contain large amounts of parallel information, different images can be plotted for individual components like protein, starch, or lipids. Unlike most conventional microscopy techniques, this process does not require any staining.
Equipment
Nicolet iN10 MX FTIR imaging system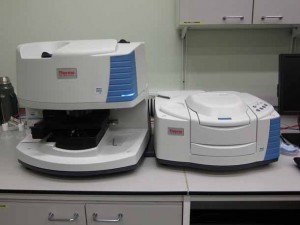 Spatial resolution 10 micron in aperture mode (diffraction-limited), 25/50 micron in fast scanning mode
Point, Line and Area scans
Transmission, reflection and ATR measurements
Advanced data manipulation and image analysis
External sampling station for routine transmission and ATR-FTIR measurements
We can provide advice on sampling, measurement, and data analysis. We also carry out one-off sample analyses for external customers and work on industrial contracts. We welcome interaction with external organixations, particularly with a view to collaboration. Please contact us for more information.
Contact
Prof Kate Kemsley
+44 (0)1603 255000